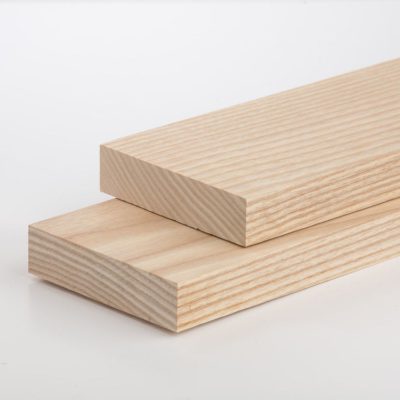 Ash is an attractive and noble finishing material. Since it has pronounced annual rings, the texture is dominated by extraordinary, interesting patterns with a rich specter of shades. The attractiveness of this timber is more relevant to the interior design. To solve complex tasks of furniture and other industries, a different section of the board is used. Therefore, a dry ash board with a thickness of 30mm will serve as an excellent material, both technically and for decorating the facades of kitchens, bedroom items, accessories for tables and chairs, decorative panels, lining.
Material for the production of joinery, is an unedged dry ash timber with a moisture content of 8% (+ -2%).
Grove Wood LLC is the company positioning itself as a producer having full-cycle of wood processing, allowing to get high-quality ash timber.
Standard parameters for furniture:
Thickness – 30 mm.
Length – 3000 mm.
Humidity – 8% (+ -2%).
Different grades of ash sawn timber are used for different purposes. Therefore, before purchasing materials, it is necessary to clearly determine what kind of dry ash timber for a specific task is needed.
Grade differentiation:
Grade 1 (AA / AB) – one live knot up to 10 mm per linear meter
Grade 2 (B) – up to two live knots up to 40 mm per linear meter, black knots up to 10 mm – up to two
Grade 3 (C) – up to two live knots up to 60 mm per linear meter, black knots up to 30 mm – up to four.
You can get all the information of your interest by contact details and buy a dry ash timber at a convenient time for you.
We are always glad to new customers and are ready to offer you a high-quality product at a competitive price!
Order product