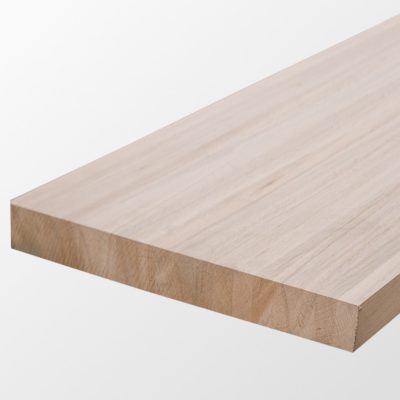 Ash timber is a valuable raw material among many tree species. Ash is famous for its high performance both in joinery and construction.
Ash has good strength, which allows it to be used for the construction of load-bearing constructions and floor coverings. It is classified as hardwood species, which makes it possible to use it in areas with a high risk of technical damage to products and increased requirements for wear resistance. The elasticity and toughness of ash structure determine the use in the production of bentwood furniture, arches, garden and sports equipment. Ash is rarely used outdoors, as it is not sufficiently resistant to environmental influences.
Ash timber ranges in color from light yellow to gray, an attractive wood figure is clearly visible on the board due to the annual rings. The wider these rings, the better the quality of the wood. The combination of dark heart of the and light sapwood also looks very attractive in various combinations, emphasizing the timber originality.
Grove Wood LLC is one of the largest producers of a wide range of sawn timber of various species. Highly qualified and experienced staff of our company is able to ensure the production of the proper level in the shortest possible time.
Ash board panel is the most demanded material for joinery production. It is produced by gluing strips – solid board strips. Built-up ash board panel – made by gluing short strips on 4 sides. Each of them has its advantages and disadvantages.
A solid panel, the price of which is much higher than of a built-up, looks more homogeneous and rich, but it is less resistant to the deformation process. The built -up ash board panel looks like a staggered block, but at the same time it is stronger due to the great number of joints.
Ash board panels are used for production of steps, countertops, window frames, doors, kitchens, interior decoration.
Grove Wood LLC cares about the environment and its customers. By producing environmentally friendly and natural materials, we enable people to live in a less harmful environment.
We constantly develop production technologies for glued products, furniture boards and molded products. We are always ready to provide the best options for our customers.
Please contact us with all your inquires by contact numbers, e-mail, or leave a request for a call back on the website.
Order product