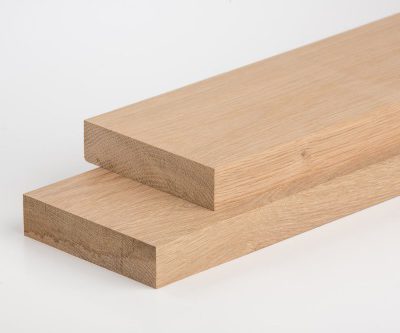 Our company is a processor of round logs of coniferous and deciduous species. The deciduous species of lumber we closely work with in production are ash and oak.
Oak wood material has a high strength factor and is practically unaffected by time. The density of oak wood material is 700 kg / m3. Such a high rate is of great importance. The denser the wood material, the harder and heavier it is, and the more difficult it is in processing and technical drying of wood. These indicators make the processing of square edged oak boards heavier, but at the same time give tremendous advantages – they are much less susceptible to abrasion in such products as stairs, railings, floors and others, which characterizes oak wood material as highly durable.
Our company produces unedged oak timber and square edged oak boards. Square edged boards have better appearance and slightly differ in scope of application.
The advantages of the oak materials hardness are appreciated in floor and wall cladding. It is possible to buy square edged oak boards and use them in the production of finishing materials for both interiors and exteriors.
Wood material is an environmentally friendly product that creates a cozy and natural atmosphere with a pleasant environment. Window and doorways made from square edged oak boards are available in many carpentry workshops. High-quality raw material for such products allows them to serve for a long time and not be exposed to various atmospheric influences.
Standard parameters of square edged oak boards:
– thickness 50 mm;
– width 100-550 mm;
– length 1200-3000 mm;
– humidity 8-10%.
Quality characteristics for square edged oak boards:
1 Grade (AA / AB) – live knots up to 12 mm – one per linear meter. The presence of two stiles sized 120 * 2200 mm.
2 Grade (B) – live knots up to 40 mm – two per one linear meter, black knots up to 10 mm up to two pieces. The presence of one stile sized 120 * 2200 mm.
3 Grade (C) – live knots up to 60 mm – up to four pieces per one linear meter of the board, black knots up to 30 mm – up to two pieces per linear meter.
Grovs Wood LLC cares not only about the environmental friendliness of raw materials as benefits for human health, but also the absence of harm to the environment in our final product.
We are always ready for productive dialogue with the customer in order to produce sawn timber in accordance with your requests and specifications. You can buy square edged oak boards at a competitive price from the manufacturer at Grovs Wood LLC.
Order product