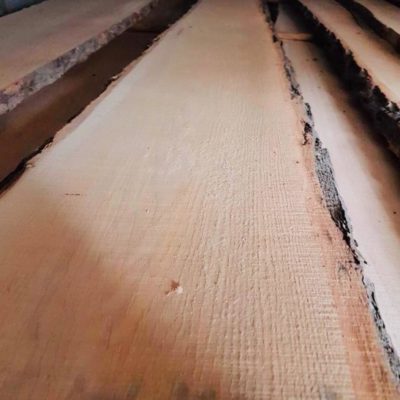 Oak timber is considered to be the most durable and reliable.
Our company is a producer of oak timber. The most common type of timber is unedged oak, which is produced by sawing round logs to the required thickness. In order to get a material suitable for the production of joinery, timber must undergo heat treatment. Our production use convection kiln drying chambers to make unedged oak timber dry. Under the normal operation of the above-mentioned chambers, defect-free drying is ensured and an unedged oak timber reaches a moisture content of 8-10% over the entire surface and thickness of the material.
Our company is a producer of high-quality unedged oak timber, which can be purchased both in normal operation and by order in advance.
There are standard sizes for the production of unedged oak timber:
– thickness 50 mm;
– length 3000 mm;
– humidity 8-10%.
Grade differentiation:
1 Grade (AA / AB) – live knots up to 12 mm – one per linear meter. The presence of two stiles sized 120 * 2200 mm.
2 Grade (B) – live knots up to 40 mm – two per one linear meter, black knots up to 10 mm up to two pieces. The presence of one stile sized 120 * 2200 mm.
3 Grade (C) – live knots up to 60 mm – up to four pieces per one linear meter of the board, black knots up to 30 mm – up to two pieces per linear meter.
We offer our clients:
– board selection according to their request;
– loading onto a vehicle;
– producer's competitive pricing policy;
Grovs Wood LLC in the production of timber uses round logs exclusively from ecologically clean areas and certified forests.
Price for unedged oak timber is optimal in the price list of our company, it is always available in stock. You can buy it at any time convenient for you. We are always glad to new clients. You can buy an unedged oak timber by contacting us or by leaving a request for a call back.
We offer unedged oak timber at the best price with a delivery throughout Ukraine and export to any part of the world with the appropriate registration of a full package of customs documents.
Oak wood material has a lot of advantages making it a leader in the woodworking industry. The high strength and density of oak wood ensures the durability of the products.
Order product