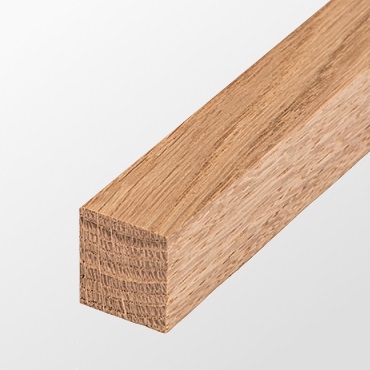 Oak material is famous for its high resistance to decay, as it contains a large amount of tannins. The hardness and density of the material makes it possible to produce not only wear-resistant structures but also small fasteners. Oak is one of the few species, the resilience and elasticity of which allows the production of items of almost any radius. The moisture resistance of this material makes it possible to create and maintain interior decoration for baths, its placement in open front areas, and the construction of various structures under water.
Oak timber has a porous structure, attractive texture with clearly defined annual rings. The texture of the oak timber is gorgeous. Due to the beauty of the oak timber structure, materials made of it are rarely painted. They are being only varnished, just to enhance it.
Considering the large number of the advantages in technical and aesthetic characteristics, oak material is used in the production of furniture, floor coverings and details of interiors and exteriors.
Oak beams are solution of many tasks in finishing works. It can be solid or glued. Solid oak beams can be purchased in the form of square edged beams or profiled beams (made from a solid log, having certain shape – a profile). Glued oak timber price will differ significantly from the previous one, since the production technology of this timber is very complicated. Oak beams can also be edge-glued beams and built-up beams. These two types differ in production technology. The price of edge-glued beams will be higher, as their production, means gluing of specially prepared oak boards, made from the dried solid oak timber, longitudinally along the surface. Built-up beams are the smaller beams of different sizes (which is not enough for production of solid strips) connected together by means of mortise-and-tenon joint.
The main advantage of oak beams is that it can be produced in different sizes. Among other advantages we consider high construction strength, shape stability, increased heat resistance due to high density.
Grovs Wood LLC produces environmentally friendly sawn timber, thereby taking care of humanity as a whole. Our company carries out sanitary cleaning of forests, thereby taking care of the forests of Ukraine.
We always have an individual approach to each client and order. Our company is trying to improve the technical characteristics of our production, thereby providing high-quality material to the customer. You can always get the information of your interest by contacting phone numbers, by ordering a call back, or by sending an inquiry to the company's e-mail.
Order product