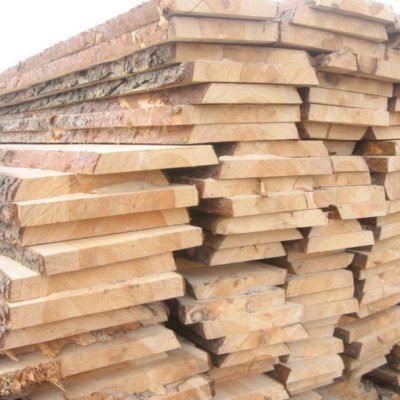 Unedged pine timber is used for different purposes, sawn from different types of round logs, having a different appearance due to it. Unedged pine timber 50mm thick is used in construction and joinery production.
Unedged construction timber is used for the tasks which don't have high requirements for aesthetic performance. Often, the sphere of application for low quality unedged pine timber is construction. Without additional processing, unedged pine timber is available at an affordable price, which makes it possible to expand the range of its use. Direct application of unedged sawn timber: construction of formwork, strengthening of walls, sub-flooring, construction of auxiliary and storage facilities, temporary fences, various roofs, sheds.
For joinery production, unedged pine timber must be of high quality, produced by sawing of round logs of the highest grades. This type of unedged materials is characterized by a small number of knots, free from various wood defects, should not be warped, twisted, winged, presence of the above-mentioned characteristics complicates the process of wood processing. Such defects arise when the process of technological drying of unedged pine timber is incorrect. Since carpentry is made only from pine boards, the moisture content of which does not exceed 10%, the course of wood drying should be strictly controlled, starting from sawing of round logs, laying unedged boards on gaskets having the same cross-section, timely and sufficient moisturizing of pine sawn timber, and accurate control of temperature in drying chambers.
Standard parameters of unedged pine timber:
– thickness: 25mm, 30mm, 40mm, 50mm;
– length: 3m, 4m, 4.5m, 6m.
Grove Wood LLC positions itself as a consumer of exclusively environmentally friendly raw materials. When we take care of trees, we take care of people.
Our company has been producing unedged pine timber, with the best price in the region, since 2010. We produce sawn timber on high-quality equipment, both in standard sizes and according to individual requests and customer specifications.
It is possible to buy unedged pine timber by contacting the specialists of our company. Standard sizes of unedged pine timber, dry pine boards, pine beams can always be found in the company's warehouse.
Order product